Lavello Protection Grids
Single bowl or double bowl, the Lavello Protection Grids are available in all sizes to fit and take care of your Lavello sink.
Their multi-purpose use allows them also to be utilised as an additional drip tray for fruits and vegetables and defrosting frozen food to keep your countertops dry and clutter-free.
Place the grid at the base of your Lavello sink to protect it from blunt force or impacts. Rubber stops on both sides and feet ensure they remain fixed without slipping.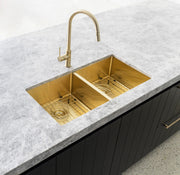 27 products
New
Best Selling
Price, low to high
Price, high to low
27 products
New
Best Selling
Price, low to high
Price, high to low
Close